Sea Gull's Fury + Fishmasks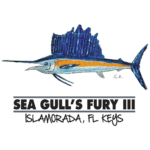 Sea Gull's Fury III
Sea Gull's Fury III is a fishing vessel located in Islamorada, Florida Keys. The Jupiter Marine 38 HFS is used for recreational sport fishing and can be found targeting pelagic species such as Atlantic Sailfish and Dolphin (Mahi Mahi) to reef species such as Snapper and Grouper.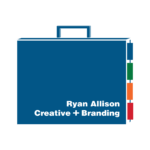 The Project
When fishing on the deep blue sea, you must take precautions to protect your skin from the sun. Fishmasks®, a company that makes neck gaiters for anglers offers a custom program for their products. Custom branded neck gaiters were the optimal choice for a Sea Gull's Fury custom product.
The artwork on the Sea Gull's Fury II custom neck gaiter displays a free jumping Sailfish. This is a common scene on the water while targeting this species of the Marlin family. The Sailfish depicted in the artwork is from the Sea Gull's Fury II logo. The seafoam green color was chosen to match the laid back, tropical environment of the Florida Keys.
The artwork on the Sea Gull's Fury III custom neck gaiter displays an outrigger line with attached Sailfish flags. In the sport fishing community, fish flags are flown upside down to signify a release. The Sailfish depicted on the flags is from the Sea Gull's Fury III logo. The navy blue and deep red colors were chosen to match the palette you often see in the maritime environment.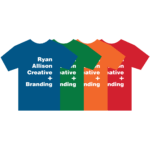 Design work and delivery for custom products for your brand. From custom handmade signage to specialty apparel that fits the needs of your brand.